JOIN THE ADULT KICK SCOOTER REVOLUTION
Shipping daily from our California, Illinois and Florida warehouses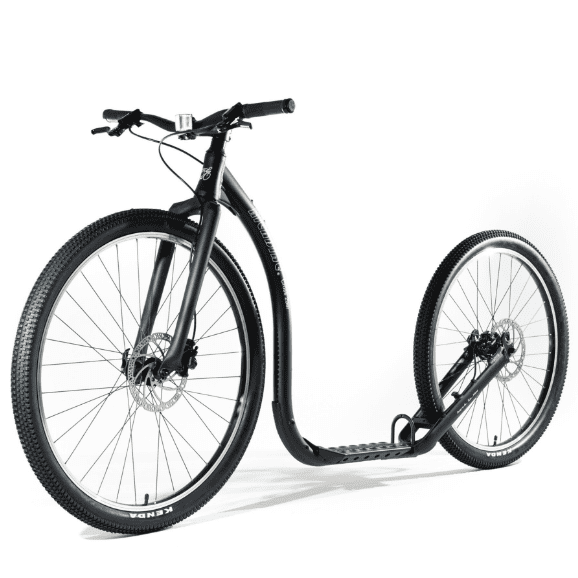 LEADING THE ADULT KICK SCOOTER REVOLUTION
Kickbikes were invented over 25 years ago in the Swiss Alps, to train world class sled dogs in the summer months when the snow would melt. Over the years the Kickbike community has turned this training into a worldwide sport called Dryland Mushing. Along the way the mad geniuses at Kickbike Labs have been breaking records, racking up awards and redefining what a scooter really is. Kickbikes are used by NFL and Olympic athletes, marathoners and triathletes, dog owners and fit families all over America. Now with 11 wildly different models, and more on the way, there truly is a Kickbike for every person and adventure!
You've Got Questions…We've Got Answers
WHAT IS A KICKBIKE
If a high end bicycle and one of those dinky Razor scooters had a baby and gave it steroids…well, you get the idea. Kickbikes are the biggest, baddest, fastest, highest quality adult kick scooters ever made.
WHO CAN RIDE KICKBIKES
The beauty of the Kickbike is in its ease of use. As young as 6 and experienced as 80 have found great use and fun on a Kickbike. If you can walk, you can Kickbike.
IS IT HARD TO KICKBIKE
You have to learn to ride a bike, to skateboard, to snow ski, to ice skate…but riding a Kickbike is intuitive and natural. There is nothing to learn. Most people are blown away at how easy it is to ride.
WHY THE KICKBIKE BRAND
When Kickbike invented the high performance adult kick scooter over 25 years ago, there was nothing like it in the world. A quarter century later, while others have tried, no brand even comes close to the high level fit and finish and genius design. At the core of Kickbikes is a patented aircraft grade aluminum alloy frame, that is as sexy as it is simple. Then we use high quality components and precision assembly, delivering to you the most minimalistically beautiful adult kick scooter available. Each Kickbike model is designed and tested in the rugged Swiss Alps by a team of hardcore adrenaline junkies, putting them through mile after mile of punishing tests to make sure that your Kickbike is ready to perform beyond your expectations no matter how extreme the situation. This is not a toy, this is a Kickbike!
IS IT SAFE
All Kickbikes are built and designed with safety as a priority. Unlike a bicycle, you are only a couple inches off the ground and often have a foot on the ground. You can step on and off the Kickbike with ease at any time. The super low center of gravity gives you even more stability and control.
IS IT GOOD EXERCISE
The best exercise! Kickbiking uses all the same muscles as running and cycling combined, with practically no impact to your body. In fact, you will feel loose and stretched after a nice ride, as opposed to stiff and sore like after running. Kickbiking is used by many NFL and olympic athletes, world class triathletes and marathoners, and everyday people for active recovery days, cross training, rehabbing injuries and just getting an all around fun and effective exercise.
WHAT'S UP WITH THE DOGS
So, Kickbikes were actually invented over 25 years ago to train world class sled dogs in the summer months when the snow in the Swiss Alps would melt. Over the last quarter century, Kickbike has transformed this into a competitive and growing global sport called
Dryland Mushing
. Still today, Kickbike is the leader and world champ in this sport and industry. At Kickbike America, we are passionate about growing this amazing sport here in the states and hosting races and events around the country. But you don't have to be a competitive musher to join in the fun, most of our customers are regular dog owners just looking for a fun way to get out on the trails with their pup to let them run as fast and far as they want. Tactical and traditional dog trainers are also using Kickbikes to run off excess energy of hyper pups to make them easier to train.
PERFECT ALTERNATIVE TO RUNNING & CYCLING
JOIN OVER 100,000 KICKBIKERS WORLDWIDE
I think I'm the first person in Hawaii to have this bike here. It's a great workout and ride. I use it 4 times a week to get to the gym. It's a 5 mile ride. It's very easy to set up even if it didn't have the instructions. But most of all I love it cause it could handle my weight at 350 lbs! Roy Machado
Well worth the price, this scooter comes with all the bells and whistles and it has great craftsmanship. I use this for dog scootering or urban mushing when there is not enough snow for my husky. The scooter is perfect right out of the box to hit the trail or sidewalks! Jarrett
I love my Kickbike! I just push my foot back and it glides. I'm a 260lb/ 6'1″ tall man and the size is perfect. Worked with customer service both before and after making my purchase and the service provided was also 5 stars. Highly recommended for high paced action or a lazy cruise. 'Ginger Mountain'