For 1000's of years dogs have been pulling humans through the snow on sleds. The Kickbike was invented a quarter century ago to train world class sled dogs in the summer months when the snow would melt, pioneering the exciting sport of Dryland Mushing.
Kickbikes are used by tactical dog trainers and regular dog owners to exercise hyper dogs allowing them to be more easily trained and able to relax. With the Kickbike, your dog is safely allowed to run as fast and as far as they desire. Whether you are training your sled dogs for the Iditarod or just want to get fit with your pup, Kickbike is the most trusted Dog Scooter in the world for over 25 years.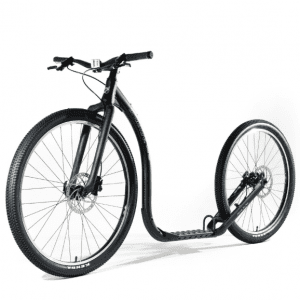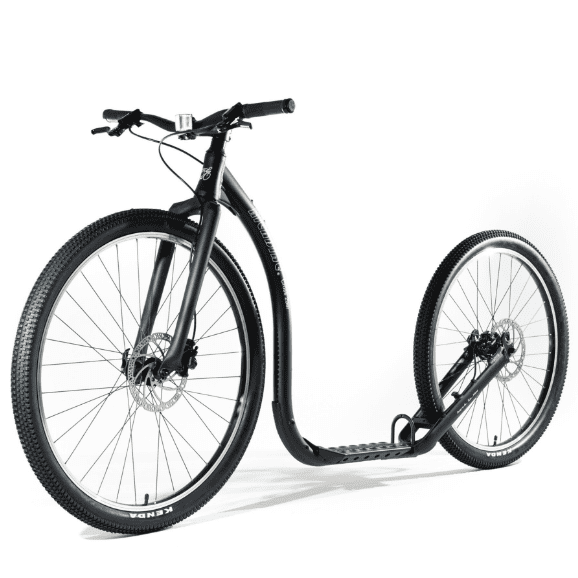 • Lightweight Aluminum Alloy Frame
• Highest Quality Components
• Made For Rugged Terrain
• High Performance Brakes
• Low Maintenance
• Safe & Easy To Learn
• Made For Dog Racing
ORDER YOUR KICKBIKE TODAY!
Shipping daily from our Illinois, California and Florida locations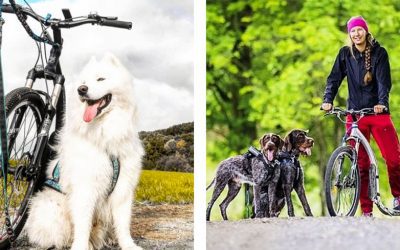 I have a dream. Yes, dogs dream too. My dream is to be able to run as fast and far as I possibly can. I want to run through the woods, through the city, across the beach, through mud, water…it doesn't matter, I just want to run! I love running. Did I say...
read more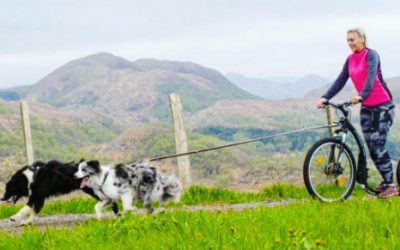 We are living in the most fitness and health centric time in modern history. Americans are becoming increasingly conscious of the importance of a healthy diet, regular cardio exercise and the benefits of being outdoors away from electronics and work. Not...
read more
JOIN #KICKBIKENATION
Become a part of our growing family and get exclusive invites to events, meet-ups and special offers
QUESTIONS AND ANSWERS
There is an immense amount of pride and exuberance you get from a Kickbike ride with your dog. It is a bond like no other. The GREAT news is that you don't need to be a competitive musher to experience this. Dogs intuitively know what to do, and with a little training and time, you and your best friend will em[bark] on an exhilarating adventure gaining health and freedom while meeting a bunch of awesome people in this close knit community.
WHAT IS DRYLAND MUSHING
Dog Mushing is an ancient and fast growing sport in which a dog or pack of dogs pulls a vehicle, typically a dog sled. Not wanting to lose a competitive edge, the Kickbike was created to train sled dog teams in the summer months when the snow had melted. Thus, dryland mushing was invented. Now the fastest growing dog sport in the world, the Kickbike is not only the original, but the champion.
WHY SHOULD I DO THIS
Kickbiking with your dog provides a fun outlet for you and your dog to get healthy together while getting outside and having fun. After each ride your relationship and communication will grow and you will form a bond that is strong and unique.
WHERE CAN I DO THIS
Pretty much anywhere. A wide open space or lengthy trail is optimal for high speed, distraction free mushing. But plenty of people start out mushing around their neighborhoods, at local parks or trails. More and more clubs and groups are forming every day around America. Jojn one locally or start your own!
WHAT KICKBIKE SHOULD I PICK
The CrossMax series is made specifically for offroad dog mushing. They are an outstanding bang-for-your-buck. If you want to take it up a notch, the 29er is the multi-year World Champion Dryland Musher. It is an absolute beauty and the beast. If you have multiple dogs, one giant dog or just want the biggest, baddest scooter ever made…well, that is why we made the legendary FatMax.
WHAT TYPE OF DOG CAN I USE
Just about any dog can learn to mush. The dogs best suited to this are 35 lb+ athletic breeds with lots of energy to burn. As you would expect, the husky breeds have an innate ability to run and pull, as these instincts are bred into them. But we've seen dozens of breeds fall in love with and excel at mushing on a Kickbike.
WHAT DO I NEED
A dog, a quality harness, a running line (leash) and a Kickbike. You will need to practice often, teaching your pup mushing commands, such as the basics of "Gee" (right), "Haw" (left), "Easy" (slow), and "Whoa" (stop). There are many more commands, and you can create your own, but it does take practice – but that is the fun part. All in all, it is a simple sport that is very rewarding, The look on your dog's face after a ride will be all the reward you will need.