KICKBIKE IS THE WORLD'S FASTEST SCOOTER
FIT
Work the same muscles as running and cycling combined, with almost zero impact. Perfect for marathon or triathlon training, rehabbing an injury or for those that hate running.
FAST
Made for speed, the Kickbike is the fastest adult scooter ever made posting a top speed of 62mph downhill. Cover far more ground, explore new places and feed your inner adrenaline junky.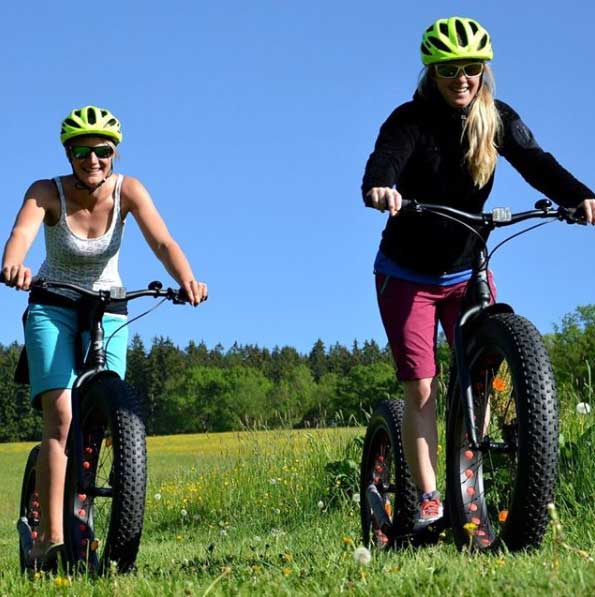 FUN
There's no getting around it, riding a Kickbike is just plain fun. No matter how hardcore you are, science proves you'll train longer and more often when you are having fun doing it.
NEXT BIG THING IN FITNESS
Shipping daily, get yours today
Frequently Asked Questions
WHAT IS A KICKBIKE
Kickbike is the biggest, baddest, fastest and safest adult kick | push scooter ever made. Invented over 25 years ago in Helsinki, Finland, the Kickbike started a scooter revolution and is still the world leader. The Kickbike itself is a beautifully designed aircraft-grade aluminum alloy frame perfectly fitted with top of the line racing wheels, tires and components. It is lightweight, low maintenance, sexy as hell and exhilirating to ride.
WHO RIDES KICKBIKES
Kickbikes are making the rounds in the NFL being the cross-training product of choice for several all stars. Thousands of Olympic athletes, marathoners and triathletes have discovered the incredible low impact cardio capabilities of Kickbiking. Kickbikes are also a godsend for people who can no longer run or cycle due to age, weight, bad joints, ailments, injury or post surgery rehab.
IS KICKBIKING GOOD EXERCISE
Kickbiking uses the same muscles as biking and running combined, while also engaging the core, arms, chest and shoulders, for a unique, fun and highly efficient full body cardio workout. There are different kick motions and methods that you can use to focus on different muscle groups. Once you start riding you will see the endless possibilities.
IS IT EASY TO RIDE
There really is nothing to learn. Kickbiking is super intuitive and natural. You simply step on and push off. Being only a couple inches off the ground, with the ability to step on and off with ease – combined with high performance brakes, makes the Kickbike incredibly accessable and safe. As easy as it is to get going, there is a depth of mastery that will have you looking forward to your next ride.
HOW FAR / FAST CAN I GO
Generally speaking, you will Kickbike about 3X as fast and far as you can run, and about half as far as you can cycle. Especially on the Race Max, cruising speed is about the same as a fixed speed bicycle. When you get up to speed, the kicking foot pushes you along like a paddle of a paddle boarder. To keep accelerating, pull your leg up to your chest and extend your kicking stride. You will be blown away by how fast the Kickbike will go with not that much effort.
WHICH KICKBIKE SHOULD I CHOOSE
Our most versatile fitness focused Kickbike is the Sport Max. It has a fantastic price point for as awesome as it is. For the more hardcore racers, the Race Max is simply the fastest scooter in the world. Since Kickbikes use standard bicycle components, you can customize yours to your liking and skill level. Swap handlebars, wheels, tires, etc off of your road bike and see how far you can take your Kickbike!