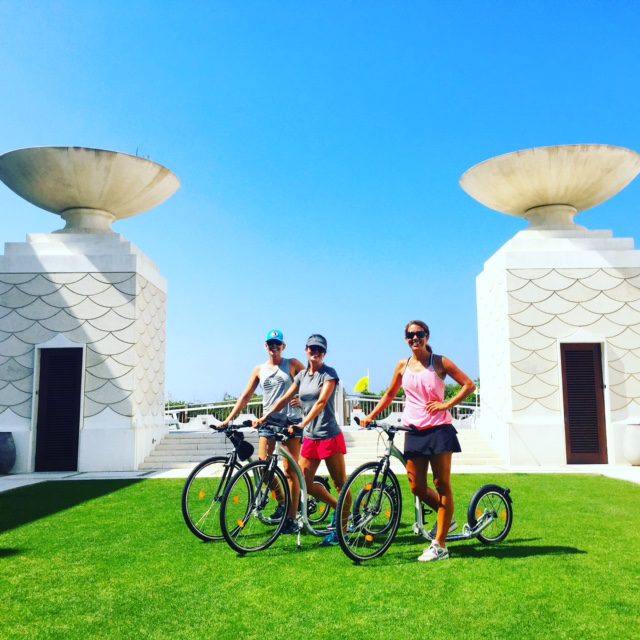 FUN
There is no comparison! The low center of gravity and exquisite design make the Kickbike riding experience simple, unique and fun! People take to the Kickbike ride like a duck takes to water. The Kickbike allows the rider to carve a line on the ground like a surfer rides a wave. Because the ride is so smooth, you can lay down a lot of miles, burn a lot of calories and cover a lot of enjoyable territory. The fun, the exercise and the transportation utility of the Kickbike is remarkable!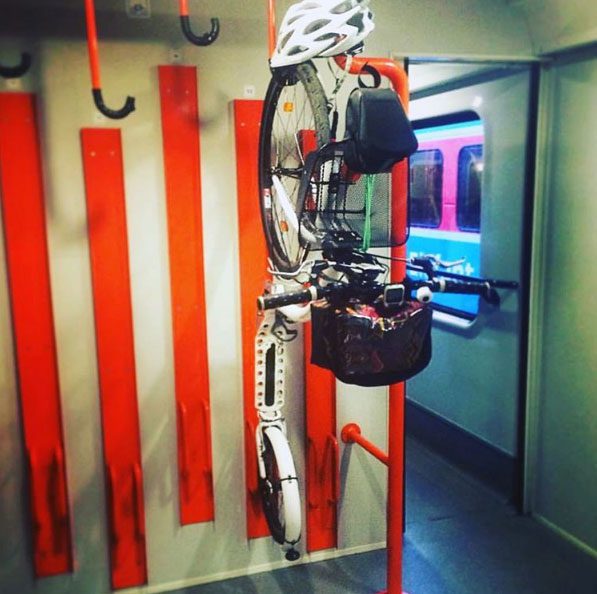 COMMUTE
The use of human power to get us where we want to go has many benefits – you keep fit, avoid using the car and public transport and do your bit for the environment. Commuting on Kickbikes is the best!; you can wear your working clothes, just walk out of the house or elevator, step on and go. You can step off, walk or stop and browse when you want; you feel free on a Kickbike in a way that you don't on a bike. Choose your favorite routes, avoid the traffic jams made up of people or vehicles; Kickbikes are light, clean and easy to carry up or down steps. At about 5-8 minutes per mile if you take it easy, quicker if you can, a few miles journey becomes a pleasurable trip.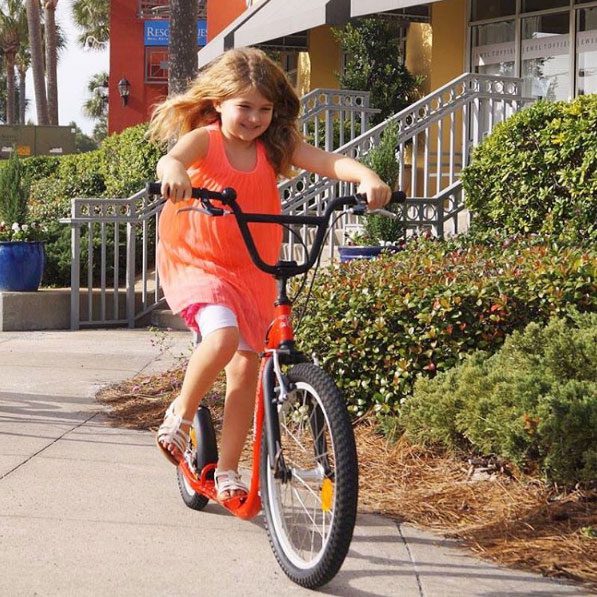 EASE
The lack of chains, gears and pedals means that Kickbikes are not only easy and natural to use, but are extremely reliable and very simple to maintain. The absence of greasy parts or protruding pedals and derailleurs which have a tendency to snag your clothing means that you do not have to protect your clothes or wear extra or special gear. You can comfortably ride a Kickbike in a suit or dress around town without fear of spoiling either. You can expect many years of good service from your Kickbike with regular maintenance and fewer moving parts. Most parts are readily available at your local bike shop, or online.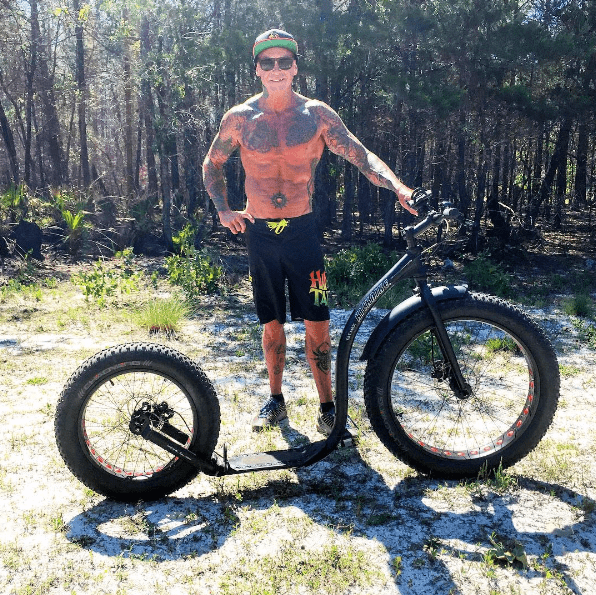 FITNESS
Riding Kickbikes is one of the most effective ways to attain and maintain cardiovascular fitness and general muscle tone. Using the Kickbike is a very enjoyable way to keep your body trim and get around at the same time. Riding Kickbikes uses a large range of muscle groups in the legs and buttocks, lower abdominals, arms and shoulders – even during light exercise. You will find, because the work is distributed over a large number of muscles, that although you feel invigorated by the exercise, you will rarely have any specific aches or strains, unlike cycling or running. There are also no saddle injuries!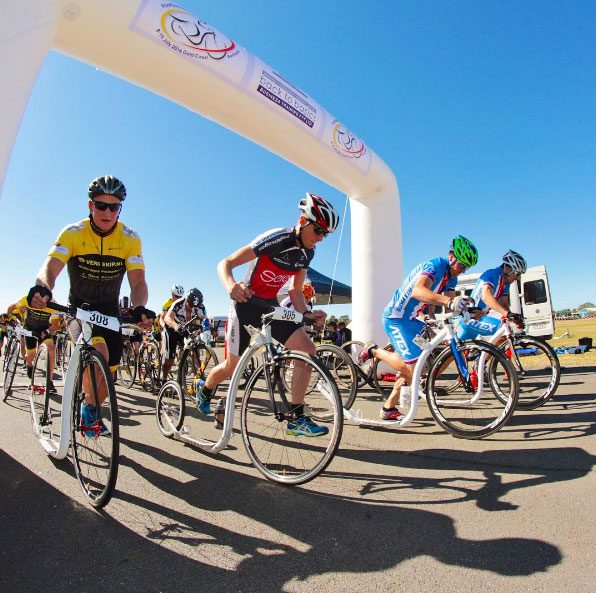 TRAINING
An increasing number of triathletes, cyclists and runners use Kickbikes as a central part of their cross training program. Kickbikes are the most effective, low cost personal training machines available. High intensity training on kickbikes® results in excellent cardiovascular and aerobic fitness and generates muscle stamina in large groups of muscles. Because of the very low foot impact and flexible riding position, intensive workouts carry a very low risk of sports injury. Kicking uses similar muscle groups in the legs and buttocks (calves, hamstrings and glutes) to those used in running; while the standing leg uses similar muscles to cycling (calves and quads). Legs are swapped every 3-10 kicks depending on the gradient and individual style. Lifting the legs forward during kicking works lower abdominals and because you can freely change position when riding, it keeps the lower back open and arms and shoulders in use all the time. It is dynamic muscle training of the best kind. You can fit intensive exercise sessions into short periods of time to fit a diverse training program and busy schedule.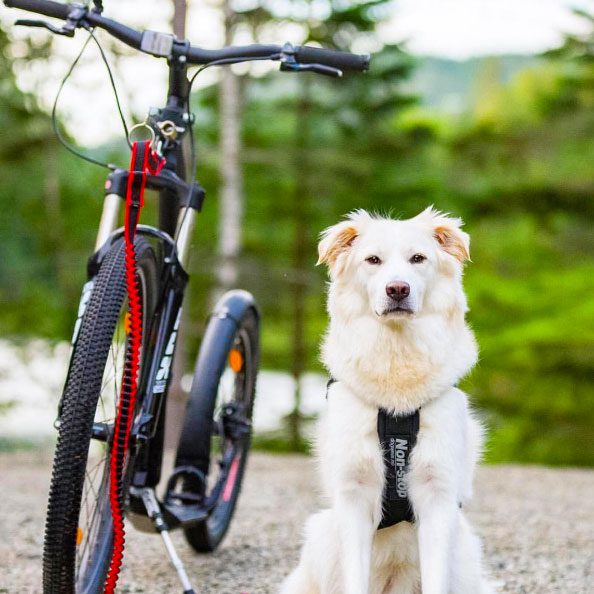 MUSHING
The Kickbike is as deeply rooted in dog mushing as any product in the world. The Kickbike was invented as a dog sledding training tool over 25 years ago and has dominated the mushing world ever since. The Kickbike 29er won the IFSS Dryland Championship yet again in 2015 for both 1 and 2 dog classes. Whether you are training for dog sledding in the summer months when the snow has melted, or are enjoying the growing phenomenon of Urban Mushing, the Kickbike is the undisputed leader. The low center of gravity, high performance parts and innovative design will keep you and your dogs safe and exhilarated. The Cross Max and the 29er are mushing champions that love to get dirty and can take a beating. Add our awesome Dog Leash Adapter for the ultimate Dog Mushing Rig!